About us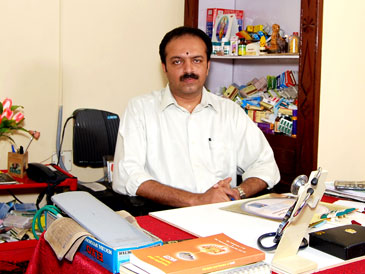 Peebees Ayurveda Hospital is founded by Dr. Dileep, son of Balachandran, hailing from the Komalezhathu family. Mr. Balachandran had retired from the Department of Agriculture as Additional Director. Dr. Dileep's mother, Padmakumari, is the daughter of Chelappallil Krishnan Vaidyar. Dr. Dileep is married to Swapna (M.A & B.Ed) and they have a daughter, Megha. The family lives in Chettikulangara.
A progeny of the Chelappallil family having more than 100 years of ayurvedic lineage, it was not a great surprise for many when Dr. Dileep took to studying Ayurveda. In 1985, he joined the Ayurveda College, Ollur in Thrissur to do his Bachelor of Ayurvedic Medicine and Surgery(B.A.M.S). On completion of his studies in 1991, he went to work with his uncle, Dr. C.K. Suresh Babu at the Sree Ramakrishna Pharmacy and Hospital, Chingoli. Under the guidance of his uncle, he mastered the finer details of ayurveda for 3 years. On May 24, 1994, Dr. Dileep started his own establishment called the Sree Krishna Ayurvedic Clinic in Chettikulangara market junction. Once the establishment began gaining patients, Dr. Dileep started the in-patient division called the Pee Bees Hospital in 2000.
The hospital has become a boon for the many people suffering from low back pain and arthritis. It has a panchakarma treatment department where patients are treated for back pain and arthritis. Arrangements are being made to provide spacious and comfortable accomodation(A/C and non A/C rooms) for the patients. A diet regime called" pathyam" is to be followed by the patient during the ayurvedic treatment period and we are providing that diet regime(Pathyam) in our Hospital. The staff here have undergone specialist training to perform these treatments. The department specializes in preparing the ayurvedic medicines as per ancient ayurvedic scriptures. These medicines ensure that the treatments performed here are very effective. Swapna, wife of Dr. Dileep, works with him in this venture by looking after the cultivation of the medicinal plants and preparing the ayurvedic medicines from it. With the help of the staff at the hospital, Dr. Dileep ensures that all the patients are treated with the utmost care and respect.
Dr. Dileep attributes his success in treating people to the blessings of his grandfather Chelappallil Krishnan Vaidyar. He is also thankful to his uncle for giving him the training that helped him start his career. His wife Swapna and daughter Megha live with him in Chettikulangara and helps him with the running of the hospital.